ARE YOU A IPHONE SOFTWARE DEVELOPER?
Learn about this at TOUCHCALC
Imagine doing things the easy way!!! This is what happens when doctors design software for doctors.

A simple application that will save you time and increase coding and billing accuracy. Captures charges (procedure and diagnosis) at the hospital bed with your iPhone or an Internet enabled computer. Integrates will with major software. Stores encrypted information on the web available for billing in your office immediately. Patented novel encryption keeps data safe. AJAX fast.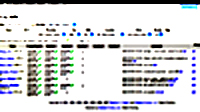 SHIFTS (see screenshot) enables nephrologists to capture G codes (soon to change to CPT codes) at the point of care in the dialysis units. Works with any Internet based computer. Information is encrypted and stored on the web. Ready for billing immediately. Smart program calculates code based upon number of times seen. Also works with guest patients and pediatric patients. Helps large practices with multiple doctors go to multiple sites. Can integrate with existing office software.

Medicine has core values, just like any well-run business
– And yet, there are serious obstacles to meeting these. These values are simply:
Timeliness
Safety
Patient Centered Care
Effectiveness
Efficiency
Equitability
Take a nephrologist who wants these values for his practice, combine top software engineering talent – and you will end up with a host of products that are designed to fit this vision.
Example 1:
Two new fellows joined a medical practice and one said, "Why don't we develop an easy way to keep track of our dialysis patients? Here is an idea I have." The second said "Why don't we do it on the web?"
The senior partner (SZF) said "It must be HIPAA secure, fast, accessible at any Internet-based work station, easily modifiable and affordable. I know just the team to do this." A fews days later, Brian said "OK, done."
The result – SHIFTS
Now you can simply check when you see a dialysis patient, and SHIFTS, does the rest – time stamps the note, calculates the G-code, lets your colleagues and billing team know. What is even more exciting is that SHIFTS can keep track of hospital patients, allowing you to send patient-specific comments back and forth, handle guest, home and pediatric patients. But, that's not all. SHIFTS can also serve as a database – keeping track of primary care/referring physicians, vascular surgeons, preferred hospitals and health plans. You can sort by first date of dialysis, birthdate, zip code. Your marketing analysis team will also love SHIFTS. Import and export files using standard database formats available through Microsoft Office. SHIFTS is created with a patented HIPAA safe encryption algorithm. It allows your billing team to close the program each month for billing purposes, but keep an archive always available, so that to the doctors, data is always seamless.
SHIFTS - when doctors design the software for doctors.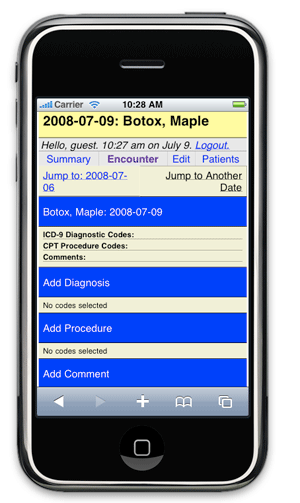 iPhone is a registered trademark of apple computer corporation
---
Health Information Technology (from NEWSDESK)